Integral Art Lab: DIGNITY with Art by Martina Höss
with Martina Höss, Nishad Dubashia & Ute Weber
Date: June 23, 2022
Time: 8:00pm – 9:30pm CEST
Duration: 90 Minutes
Location: Online via Zoom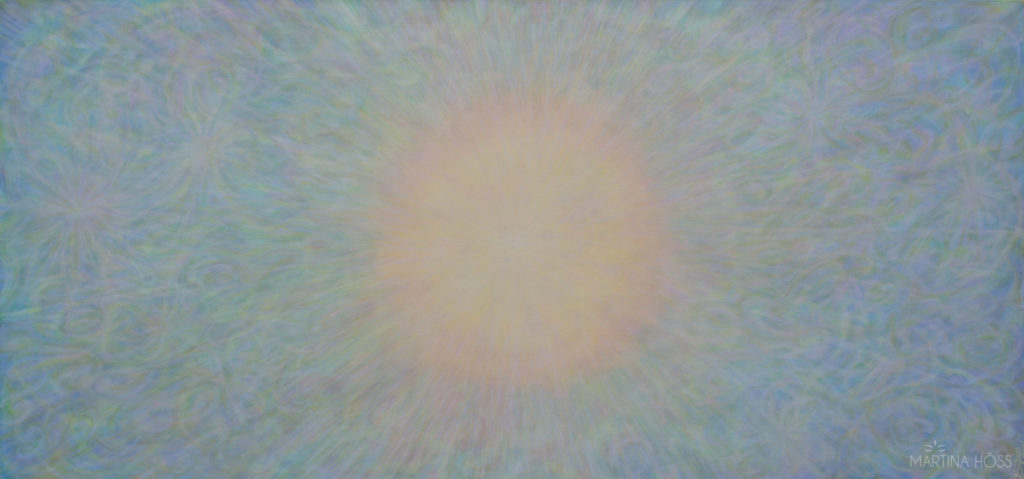 Martina Höss (Austria)
Martina Höss is passionate about color alchemy, oil painting, and how to transmit higher states of consciousness and the inward reality of the formless, pure Self onto her canvas. She studied at the Vienna art school and the academy of art therapy. During her 40 solo- and group exhibitions, since 1997, she started providing guidance for energetic communication with the paintings, to stimulate the viewer's spiritual intelligence and ease meeting one's light of consciousness through her art.
Nishad Dubashia (United Kingdom)
Nish Dubashia is a British writer and mathematician. He is the author of two novels (Gifted and Dancing with Angels), as well as The Unity of Everything: A Conversation with David Bohm, which has been referenced in academic journals and conferences.
Nish is also a public speaker, having spoken at the Humanity Rising Global Summit, the World Unity Week, and the Science and Consciousness conference. He has also been featured in the Integral Leadership Review with his dialogue partner Peter Merry.
Ute Weber (Austria)
Ute Weber, MA MSc is a transpersonal researcher and PhD-Candidate at Ubiquity University and the Academy of Inner Science. She studied philosophy with a focus on the aesthetic experience of art, art history with a focus on the experience of the numinous in Byzantine art, and founded the Integral Art Lab Hub to open spaces for experiencing the interconnectedness of heaven and earth, the spiriual in man and the weird in world and universe. In various formats – Integral Meditation, Integral Salon, Integral Art Lab, a.o. – Ute offers opportunities to develop consciousness, awareness and creativity and to realize one's own potential. The Integral Art Lab we experience today is a u.lab-2x-prototype.
Session Abstract:
Our contribution to the Global Forum 2022 is an Integral Art Lab on the theme of DIGNITY with art by Martina Höss. Our intention is to explore DIGNITY, a human potential and a fundamental logical right, based in constitutional interpretation on rationality and free will, but more than that, a consciously felt and embodied interrelation with all that is.
This "unity of everything" is revealed in the diamond model unfolded by Nishad Dubashia in his so-called book. It shows the universal principle of the process of creation from wholeness to multiplicity and, in our context, the manifestation of human potential through embodiment.
The Integral Art Lab developed by Ute Weber follows in its structure a dynamic process of perceiving, embodying and becoming aware of subtle information, communicating transparently in dialogue and listening deeply from the unique resonance in the aesthetic experience of an artwork.
The artworks of integral artist Martina Höss materialize subtle information from amaterial dimensions. Her paintings offer us an extraordinary opportunity to connect with these realms through deep seeing, feeling, sensing and becoming aware in the form of journaling. Beyond the shared experience, an interrelationship takes place between participants, and new information emerges from the collective field we realize together.
Participants experience that DIGNITY can be embodied through opening up to a consciously remembered and activated vertical and horizontal interrelation with a WYRD reality, the basis for peaceful relationships.
Art Gallery with artworks by Martina Höss: